Typhoon Haiyan hits Philippines
MANILA — Philippine rescue workers struggled Saturday to grasp the human toll and physical devastation from a powerful typhoon that ripped through the country the day before, killing more than 100 people in a southern city inundated by the storm, according to officials.
Tacloban City, which was hit by surging ocean waters more than 40 feet high, was left devastated by the typhoon, and at least 100 cadavers were seen along the streets, Capt. John Andrews, deputy director general of the civil aviation authority, told a local radio station.
As rescuers make their way to isolated areas and communications are restored, officials are worried that the death toll could rise significantly. Damage was believed to have been extensive, in part because many structures in poorer regions are not well built.
The estimates as of this writing, Nov 9, are over 1200 people dead. As of Nov 12 we know the total has reached 10,000 and the Haiyan death toll expected to climb as aid flows into Philippines. True disaster. (On the 13th the news reports say maybe not 10K. In any case it is a disaster.)
The typhoon slammed into the island of Samar, on the eastern edge of the Philippines, early Friday morning and sped across the islands in the center of the country. Photos showed crumpled wooden buildings, high waves slamming into the shore and, in some cases, people emerging from their houses to find coconuts strewn all over the streets.
The typhoon first roared onto the country's eastern island of Samar at 4:30 a.m. Friday, flooding streets and knocking out power and communications in many areas of the region of Eastern Visayas, and then continued its march, barreling into five other Philippine islands. Then, predawn Saturday, it headed toward Vietnam. You may want to look at a pictures and a movie of the typhoon from space. The movie is awesome.
The GCP event was set for 24 hours beginning early Friday morning 04:30 local time, which is Thursday Nov 7 at 20:30 UTC. The result is Chisquare 86632.112 on 86400 df, for p = 0.288 and Z = 0.559. This analysis is corrected by removing one rotten egg. 86632.112 [2,] 86400.000 [3,] 0.288 [4,] 0.559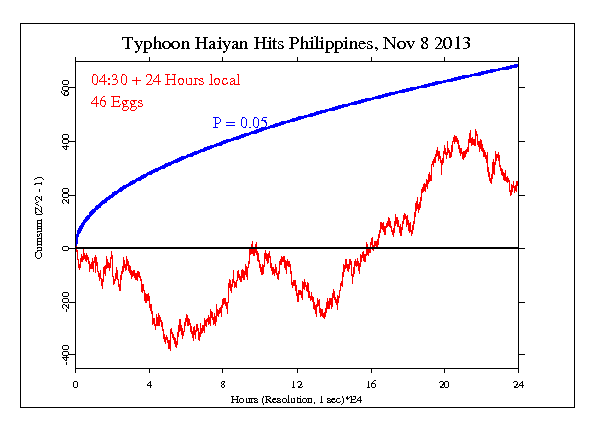 It is important to keep in mind that we have only a tiny statistical effect, so that it is always hard to distinguish signal from noise. This means that every "success" might be largely driven by chance, and every "null" might include a real signal overwhelmed by noise. In the long run, a real effect can be identified only by patiently accumulating replications of similar analyses.