A wildfire near Yarnell, Arizona has claimed the lives of 19 firefighters from Prescott Fire Station #7 in a tragedy that has captured attention from over the world. The wildfire, considered the deadliest in state history, began Friday near Yarnell, apparently because of lightning strikes. The fire still wasn't contained on Monday morning, and about 200 homes and other structures have burned in the area of Yarnell, a community of about 600 people, the state forestry division said.
From CNN -- They were part of an elite squad confronting wildfires on the front line, setting up barriers to stop the spreading destruction. But in their unpredictable world, it doesn't take much to turn a situation deadly.
In this case, a wind shift and other factors caused a central Arizona fire, which now spans 8,400 acres, to become erratic, said Mike Reichling, Arizona State Forestry Division spokesman.
Though the deaths are under investigation, the inferno appears to have proved too much, even for the shelters the 19 firefighters carried as a last-ditch survival tool.
"The fuels were very dry, the relative humidity was low, the wind was coming out of the south. It turned around on us because of monsoon action," Reichling told CNN affiliate KNXV. "That's what caused the deaths.
The firefighters -- members of the Prescott Fire Department's Granite Mountain Hotshots -- were killed Sunday while fighting the Yarnell Hill fire, northwest of Phoenix. Among the dead was Eric Marsh, the unit's 43-year-old superintendent.
Honoring the fallen
Also killed, according to the city of Prescott: Andrew Ashcraft, 29; Robert Caldwell, 23; Travis Carter, 31; Dustin Deford, 24; Christopher MacKenzie, 30; Grant McKee, 21; Sean Misner, 26; Scott Norris, 28; Wade Parker, 22; John Percin, 24; Anthony Rose, 23; Jesse Steed, 36; Joe Thurston, 32; Travis Turbyfill, 27; William Warneke, 25; Clayton Whitted, 28; Kevin Woyjeck, 21; and Garret Zuppiger, 27.
The GCP event was set for 23:00 June 30 to 05:00 July 1 (GMT). This 6 hour period begins with the recognition of an extreme emergency by the hotshot crew and communications that they would need to deploy their shelters. The world quickly learned of the tragedy and shared in the shock and dismay. The result for the GCP formal event was Chisquare 21438 on 21600 df, for p = 0.781 and Z = -0.777. The first two hours of the graph showing GCP data show a powerful negative deviation that by itself would be statistically significant.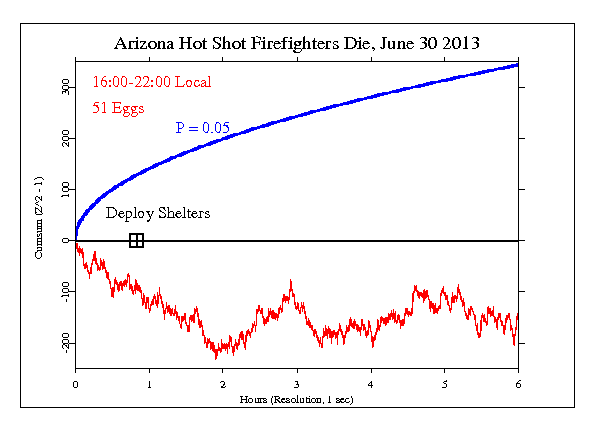 It is important to keep in mind that we have only a tiny statistical effect, so that it is always hard to distinguish signal from noise. This means that every "success" might be largely driven by chance, and every "null" might include a real signal overwhelmed by noise. In the long run, a real effect can be identified only by patiently accumulating replications of similar analyses.