Dec. 27 (Bloomberg) -- Former Pakistani Prime Minister Benazir Bhutto was assassinated in an election-rally attack in Rawalpindi, threatening the stability of a nuclear-armed nation that is a focal point of the West's war on terror.
Ms. Bhutto's companions said she died at 6:16 pm, of gunshot wounds. At least 16 other people died and more than 60 were injured in the gunfire-and-bomb attack on Bhutto's rally, police said. The opposition leader, 54, had survived a previous attempt on her life when she returned from exile two months ago.
Rioting broke out as her supporters gathered outside the hospital where her death was confirmed and in cities across Pakistan. Hundreds of Bhutto's supporters followed her coffin as it was carried from the hospital to an air base, according to images broadcast on GEO television. They waved party flags and chanted slogans of `long live Bhutto.'
The time of the attack is difficult to determine, but was apparently about an hour before Ms Bhutto died, probably near 17:15 local time (12:15 GMT). The GCP event period is 8 hours from 11:00 to 19:00, GMT, which includes an hour before the attack and several hours following her death, until midnight local time, to capture the highly emotional period as the news spread. Chisquare is 28817 on 28800 df, for p = 0.471 and Z = 0.074. While there is a very strong spike preceding the attack, the aftermath period shows no significant trend, at least nothing to parallel the depth of the tragedy and its implications. Because of the calamitous nature of the event, we have undertaken some post facto explorations, shown below.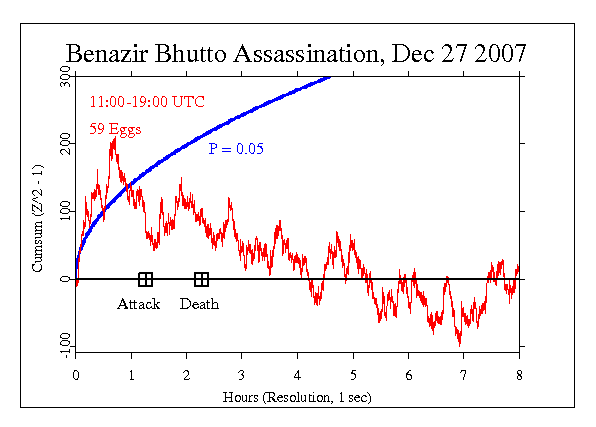 We have seen several major global events with relatively limited early effects (e.g. Tsunami, Katrina) that later developed strong trends. There is some suggestion of this in the following graph, which looks at some 36 hours following the assassination.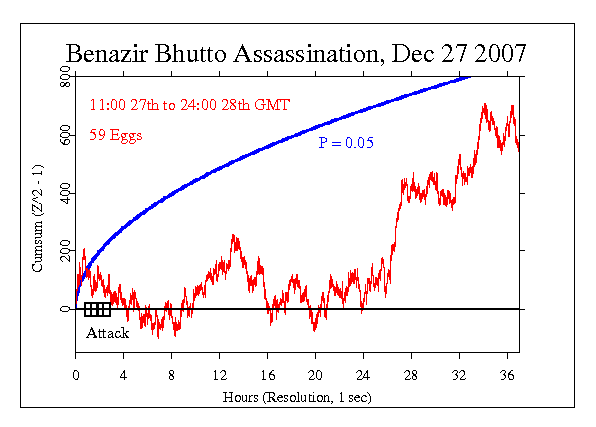 Variance
We also look at the device variance, that is, the variability among the Eggs each second. The following graph shows the 24 hour GMT day, with the time of the attack marked. This is the absolute value of the cumulative deviation (meaning that both increased and decreased variance, or change from expectation are shown as positive deviations). There is a noticeable spike around the time of the assassination. This also occurred for 9/11, but in that case the spike was almost three times larger. Nevertheless, the timing is noteworthy.
Finally, a striking anecdotal report of a "premonition" of this tragedy: A GCP correspondent teaches a Deep Relaxation Meditation, and had a note on December 23 2007 from a student, thanking him for meditation advice. The student also related an unexpected experience:
I wanted to ask you if it is common to have a vision upon completing a meditation session because I had one and this has never happened to me before. I had not watched any news prior to the meditation and I had not recently read a newspaper or even had any political thoughts. In the vision I clearly see the former Pakistani PM Benazir Bhutto at a ceremony where she is surrounded by people and she is placing her feet into a large silver bowl and she is going to have her feet washed for some reason unknown to me. It is at that moment when a man runs into the center of the ceremony and detonates himself from what is apparently a bomb harness. The vision ends. I don't know what this means, because of course I know who the former PM is, I have seen her on television before, but not for at least a month and only in passing. I don't even follow the current world situation over there very closely. So I find it very bizarre that I would have a vision such as this.